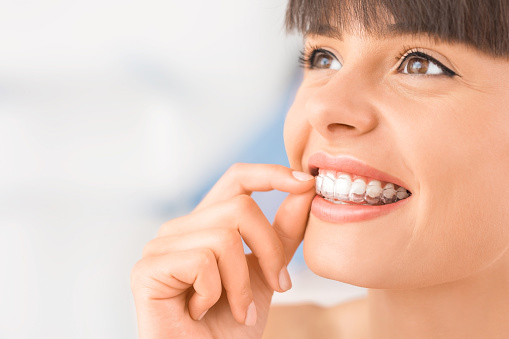 Correcting your smile, and improving the look of your teeth can be done easily and discreetly. We have options that can give you the benefits of braces without the wires or brackets. The

Invisalign

system can straighten your teeth while offering our patients a nearly invisible look that is removable when needed. At Lakewood Dental Arts, we can help you achieve the look you want while still maintaining a professional appearance.

Traditional braces offer many benefits that are great for your teeth, the big glaring downside is their very visible appearance. Many of our adult patients would love the benefits of braces without the potentially embarrassing look that is generally assumed with adolescence. If you would like to straighten your teeth, close gaps, and improve your smile discreetly, Invisalign might be right for you. We also offer Invisalign for Teens.

Invisalign is a silicone mold that is customized to fit over your teeth, making them difficult to see in normal day to day conversation. No one has to know you're wearing them, unless you tell them. The freedom of this discreet dental treatment allows our patients to continue displaying a professional smile without the obvious signs that dental treatment is in the works.


The Invisalign Process

Your Invisalign treatment begins with a consultation. We will want to review your teeth, their positioning, and discuss what you are looking for. This discussion may include reviewing digital x-rays. Many alignment issues can be corrected with Invisalign, if you have a more extensive issue, we may recommend a consultation with an orthodontist.



After we have collected information, we will take digital images that can be uploaded into the Invisalign software. This system allows us to digitally make movements to your teeth to your ideal placement. Once we have created a treatment plan, we can then place an order for a series of clear aligners. Invisalign is not just a single aligner, but comes in a series. The number of aligners depends on the work being done and the amount of moment being accomplished. Each aligner is designed to move your teeth in small increments, which is done over a couple of weeks. After wearing the specific aligner for its designated period of time, you simply move on to the next aligner.





We will want to occasionally review progress during your treatment period, but it will not require the frequent adjustments that are needed with traditional braces.

Additionally, many patients find their overall treatment period to be significantly shorter.


Our patients love the advantages that come with the Invisalign system. The benefits include:


| | |
| --- | --- |
| • | Nearly Invisible: You do not have to correct your alignment with brackets and wires.We can help you correct your alignment with clear aligners. |
| • | Removable: There are many reasons a person may want to remove their aligner for brief periods of time, maybe you are having a special evening, maybe you are playing sports, or maybe you play a wind instrument. Patients find that they even love being able to remove their aligner to brush their teeth and clean their aligners. Having the freedom to remove your aligners for brief times makes a huge difference. |
| • | Less Irritation: One of the downsides to metal braces is the occasional moments when the metal scrapes or pulls on your soft tissue, causing cuts and irritation. Invisalign is made from soft silicone, no metal involved. This means that there is nothing to cut, damage or irritate your tissue. |

We would love to discuss Invisalign with you. For more information, contact our Lakewood office at (562) 384-1091.