Laser Dentistry in Lakewood, CA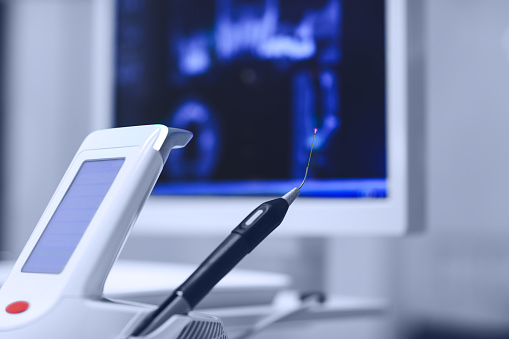 At Lakewood Dental Arts, we implement the latest techniques and cutting-edge technology to provide our patients with supreme treatments. While it may sound like science fiction, laser dentistry has exploded in popularity in recent decades. Both soft and hard tissue lasers have revolutionized certain procedures due to their many benefits!


Soft Tissue Lasers

Lasers in dentistry are most commonly used during procedures that involve soft tissues in the mouth, mainly, the gums. A soft tissue laser works by delivering energy in the form of light, using wavelengths strong enough to vaporize or eliminate certain cells without damaging the hard tissues. For this reason, a dental laser may be the ideal choice for a procedure like:

| | |
| --- | --- |
| • | Crown Lengthening: The removal of gum tissue to place a restoration or improve cosmetics. |
| • | Correcting a "Gummy" Smile: The removal of excess gum tissue that cover too much of one or more teeth, leading to a brighter, more balanced smile. |
| • | Frenectomy: The correction of a thick or tight frenulum to improve tongue mobility or a speech impediment. |
| • | Removing Benign Tumors: Lasers can be used to remove a tumor from most areas of the mouth without the discomfort of conventional surgery. |
| • | Removing Soft Tissue Folds: The removal of inconvenient folds that result in ill-fitting dentures. |
Benefits of Laser Dentistry

Our doctors specialize in laser dentistry due to its several advantages over more traditional treatment methods. Compared to a scalpel, a dental laser may:

| | |
| --- | --- |
| • | Minimize bleeding and swelling during soft tissue treatments. Because the laser vaporizes tissues, it cauterizes as it cuts, resulting in a more comfortable experience during and after your procedure. |
| • | Expedite the healing process following the removal of any soft tissues. |
Schedule Your Appointment Now!

You, too, could benefit from laser dentistry if you need restorative treatment! Call (562) 866-1735 to schedule your initial appointment now!