Pediatric Dentist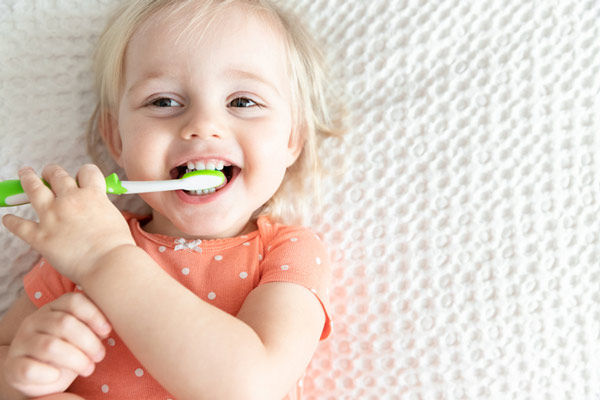 Here at Lakewood Dental Arts, we want your child to have the best experience possible while getting the beautiful, healthy smile they deserve. Here are some answers to the most commonly asked questions regarding pediatric dentistry, including what it involves, the best age to get your child started, and how he/she benefits from our dental services. If you or a loved one have a child who's taking their first steps into the world of family dentistry and have any questions not covered below or wish to set up an appointment, call us at (562) 384-1091.


What is a Pediatric Dentist?

A pediatric dentist builds experience focused on the field of treating infants, children and adolescents.


What Makes Pediatric Dentistry Important?

A pediatric dentist essentially serves the dental health needs of your child as a pediatric doctor would serve their general health needs. We specialize in treating kids. Not to mention, we enjoy it!


When Will my Baby's First Tooth Come in?

Teething, the process by which a baby's primary teeth start erupting, varies from child to child. Generally, the first teeth to appear are the lower front teeth, which begin emerging between the age of 6-8 months.


What is the Best Way to Clean my Baby's Teeth?

Even before your child's first tooth erupts, it's important to clean his/her gums after meals with a damp, soft washcloth. Once the first tooth appears, you may begin using a toothbrush. Make sure you use one with soft bristles and a small head designed for infants (available at most local drugstores).

As more teeth appear, start examining them every two weeks to check for lines and discoloration that may indicate tooth decay. Continue diligently brushing your child's teeth after every meal, especially those involving sugary foods or liquids. We'd recommend brushing four times a day total, after breakfast, lunch, dinner, and before bedtime.


Why are Baby Teeth Important?

Despite being temporary, baby teeth play a crucial role in helping your child speak, smile, and chew properly. Moreover, they function as a "placeholder" for the permanent adult teeth that will come later. Children who lose their baby teeth too early can suffer from nearby teeth shifting, which may then lead to overcrowding among other future issues.


When Should I Schedule my Child's First Dentist Appointment?

Any child's first dental exam should be either six months after their first tooth emerges or by one year of age.


How Can I Help my Child Prepare for their First Dental Visit?

The key to helping children enter this environment with a positive attitude is to have a positive attitude yourself. Children are impressionable, especially at a young age, and pick up on whatever energy their parents give off. To prevent them from developing fear or anxiety toward visiting the dentist, you may want to:

| | |
| --- | --- |
| • | Give him/her a pre-tour of our office and/or show photos of the staff on our website so we'll be recognizable. |
| • | Play mimicking games with your child, training them to recognize the instruction of "Open wide". |
| • | Use a washcloth to wipe your child's teeth after every meal. |
| • | Let your child watch you actively participate in routine dental hygiene (brushing, flossing, rinsing). |
| • | Teach your child over time that it's important to keep their teeth and gums healthy and we're only here to help with that. |
How Often Should my Child Visit the Dentist After their First Appointment?

Following their first visit, every child should begin coming in for a checkup every six months.


Learn More About Caring For Your Childs Teeth: