Traditional Braces in Lakewood, CA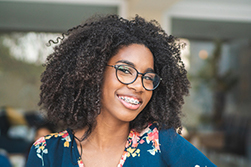 Traditional metal brackets and wires provide your orthodontist the greatest control in moving your teeth in a slow, steady and directed manner. Orthodontic treatment today comes with a wide range of options, including early intervention, varying materials, and styles. The best course of action is to work with our team at Lakewood Dental Arts for guidance, advice and recommendations. We can help.

The term malocclusion is used to define a bad bite, or a misalignment of the teeth. Malocclusion is a general term that encompasses many varying bite issues. Often, these issues can be corrected with an orthodontic appliance such as braces. Traditional braces consist of metal brackets that are applied to multiple teeth. A wire is then placed through the brackets. Through regular tightenings of the wire, your orthodontist is able to provide pressure to pull your teeth in a very specific and directed course. Braces can be used to correct minor up through severe alignment issues including:

•
Overcrowding: Overcrowding of teeth is the most common of all dental alignment issues. Overcrowded teeth create space for food debris and decay causing bacteria to hide.

•
Overbite: Your upper teeth should naturally rest over your bottom teeth. An overbite is when the upper teeth extend over the bottom teeth leaving space between the upper and lower jaw.

•
Underbite: An underbite is when the lower jaw extends out past the upper jaw, and the lower teeth go over the upper teeth when the mouth is closed.

•
Crossbite: A crossbite is when some of your teeth extend over, and some extend under, there is an inconsistency to your bite.
Open Bite: An open bite is when the front teeth and lower teeth do not meet when the mouth is closed. There is a space or gap between them.

Before seeking orthodontic treatment, we will want to discuss identification of your malocclusion. By properly identifying your specific bite problem, we can then guide the course of treatment to assist in bringing your teeth and jaw into proper alignment. Part of identifying your bite issue is discussing possible habits that may have led to this issue, including thumb-sucking, ill-fitting dental appliances, gestational growth issues or trauma.

Malocclusions are generally categorized into one of three types:

| | |
| --- | --- |
| • | Type I: Most patients fall into this category. Type I generally means that the teeth are mostly fine in their positioning, but there is something abnormal to the arch. |
| • | Type II: A Type II malocclusion refers to the front teeth alignment being fine, but the lower front teeth lean in toward the tongue. |
| • | Type III: A Type III malocclusion is when an indication of underdevelopment of the upper arch is observed. Generally, this means that the lower front teeth have a proper alignment, but the upper front teeth lean toward the tongue. |
Other Options

Today, braces come with so many options, options that include different materials, aligners, and more. We are happy to discuss options with you, or direct you toward more information. Options such as:

| | |
| --- | --- |
| • | Ceramic Brackets |
| • | Self Ligating Wire |
| • | Lingual Braces |
| • | Invisalign |
| • | Clear Correct |
| • | Six Month Smile |