Benefits of Invisalign

Lakewood, CA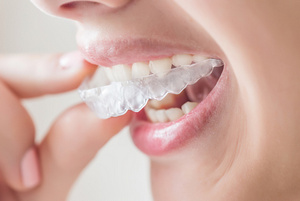 Invisalign clear aligners provide our patients the benefit of improving their smile, without the use of brackets and wires. We can help you have a beautiful look without the frustrations that come with traditional braces. Invisalign can move your most visible teeth, improving their look and positioning. Our staff at Lakewood Dental Arts can review your smile and show you the difference that Invisialign can make. You may be closer to your ideal smile than you realize.

Clear aligners is a modern take on traditional braces. With them we can make incremental changes in the positioning of your teeth. Our patients love their Invisalign Aligners because they provide a wide range of benefits, including:


| | |
| --- | --- |
| • | Teeth Alignment: Invisalign aligners allow us to move your teeth and improve their alignment without brackets and wires. We can close gaps and straighten your most visible teeth, giving them a perfect look. |
| • | Discreet Movement: Patients love the clear style of their Invisalign aligners. Using a clear silicone that is designed to fit over your teeth, your aligner becomes nearly invisible in your mouth. This means that most people will never know you are even wearing it. One of the biggest complaints about traditional braces is the obvious look of metal in their mouth, Invisalign allows you to improve your smile discreetly. We also offer Invisalign for Teens. |
| • | Ability to Remove the Aligner when needed: One of the most difficult parts of traditional braces is the continuous commitment to wearing them. Invisalign also requires a strong commitment, but comes with the ability to remove them for brief periods of time. Whether you have a special evening, are participating in a physical activity or more, you have the option to remove your aligner when it is most needed. |
| • | Easier to Clean and keep Clean: Keeping traditional braces clear and clear of debris is hard. Food easily gets stuck in the brackets and around the wire. Brushing and flossing your braces takes careful attention. With Invisalign, you simply remove the device, brush your teeth as normal and then rinse and brush all sides of your aligner. |
| • | Ideal for Patients who Play Sports or Instruments: Traditional braces can make certain extracurriculars, hobbies, or even careers difficult. Braces have caused a lot of disruption in playing sports and instruments. Invisalign allows you to remove the device while engaging in these activities and then replace it when you're done. |
| • | Keep Your Professional Look: Traditional braces are often associated with the look of youth, and though many of us think looking younger is ideal, we usually don't mean the awkward parts of it, like braces. Clear aligners allow you to perfect your smile without the use of metal. |
| • | Metal Free: Metal is not always ideal. Some patients may not like metal in their mouth because it can scratch and damage soft tissues in your mouth, others may have metal sensitivities. Whatever the reason, Invisalign removes the concerns that come from having metal in your mouth. Invisalign is made of silicone, meaning they are metal free. |
How Invisalign Works

During your Invisalign consultation, we can discuss areas of concern and what improvements you would like to see. We then take a digital scan of your mouth and open the images with the Invisalign software. This program allows us to view and then digitally move your teeth to your ideal positioning. Once we have created your ideal look, we then send this file electronically to the Invisalign lab for processing.

You will receive a series of aligners, not just a singler aligner, but many. Each aligner is designed to make tiny movements. With the final aligner being the completed positioning we discussed. Each aligner is worn for about two weeks before moving to the next. The length of time wearing your aligners is dependent on how many aligners it takes to get to your final look, but most patients wear them for 18-24 months.

We will schedule occasional visits to view the progress and provide any guidance to improve your success.