Invisalign® for Teens

Lakewood, CA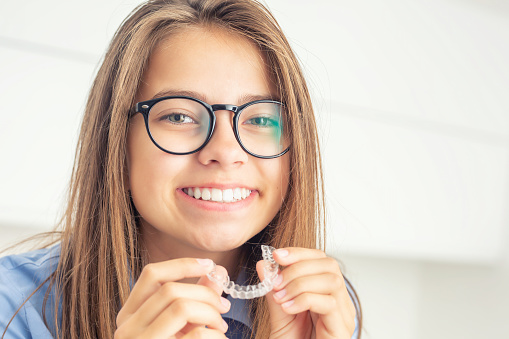 Invisalign for teens and tweens has quickly become the treatment of choice for many adolescents. There are many orthodontic corrections that do not require the bracket and wire system of traditional braces. We may be able to assist your teen in receiving the treatment they need without the disruption that comes with traditional braces. Our team at Lakewood Dental Arts can evaluate your teens teeth and discuss if Invisalign is right for them.


How does Invisalign work?

Invisalign uses a series of clear aligners that can be designed specifically for teenagers. This system provides your teen the advantage of a nearly invisible way to straighten their most visible teeth. Invisalign is a removable silicone aligner that is custom-made specifically with your teen's bit in mind.

Many parents ask, how can these plastic aligners actually move teeth? Invisalign works using a very concept to braces. The aligner works by applying pressure on the teeth that require movement, the aligners are designed to gradually shift the teeth out of misalignment and into the alignment that we created while customizing your teen's treatment plan. Invisalign is not just one aligner, but comes in a series of many aligners. Then, about every two weeks, your teen will simply trade out the old aligner for a new one. With each progression in the series, the teeth will be pushed into tiny, gradual movements toward their end result. Similarly to braces, this can cause some discomfort as the teeth shift from the pressure applied.


Is Invisalign right for me?

There are many malocclusion disorders that can be corrected with Invisalign, but it may not be right for every patient. The first step in your Invisalign treatment is a consultation with our team at Lakewood Dental Arts. We will want to examine and review your teen's teeth, their spacing, alignment and jaw joint. Invisalign is often recommended for alignment issues with front teeth, but is not always the best recommended course of treatment for issues with molars or back teeth. The best way to answer these questions for your specific needs is through a consultation.

Our teens and tweens love Invisalign to correct their alignment issues because it comes with so many advantages including:

| | |
| --- | --- |
| • | Nearly Invisible: Invisalign is made from a clear silicone, most people will never know you're wearing it from casual conversation. One of the biggest complaints of traditional braces is the very obvious metal on your teeth, Invisalign is metal free. . |
| • | Easier to Clean: If you have ever had braces, you know the frustration that comes from food debris getting stuck in your brackets, under wires and the frustration that comes from trying to brush and floss them. With Invisalign, you simply remove the device while you eat, and remove it to brush and floss your teeth as normal. You care for your Invisalign aligner by simply brushing it on all sides and rinsing, it's that easy. |
| • | Removable: Wearing your Invisalign aligner most of the time is necessary to the success of the treatment, but it is removable for those brief moments when needed. Does your teen play a sport? Or play a wind instrument? Being able to remove your Invisalign for brief periods when needed is a valuable advantage. |
| • | Won't Damage Your Soft Tissue: Metal brackets have been known to cut, scrape and damage soft tissue. Invisalign removes that possibility because there is no metal to come in contact with your tissue. |

We invite you to learn more about Invisalign and if it is the right option for your teen or tween. For more information, contact our Lakewood office at (562) 866-1735.