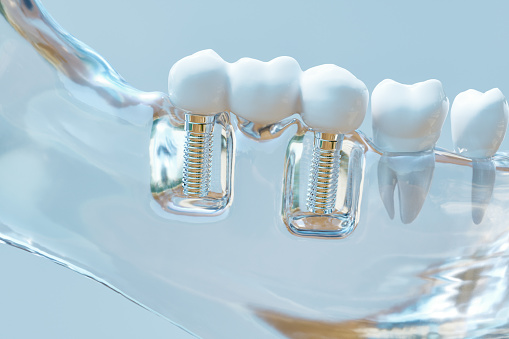 Today, we have fabulous options for replacing multiple missing teeth. At Lakewood Dental Arts, we have options that will provide you with teeth that look, feel and function much like your natural teeth. The difference is in how we do it, instead of anchoring a false tooth to neighboring teeth, we actually rebuild the root and restore the connection between the new tooth and jawbone.

This connection is possible through the minimally invasive surgical insertion of a dental implant. With dental implants, we can help you have a beautiful, complete smile.

Our teeth play a significant role, both day to day and in the long term. They help us chew, they provide structure to our facial shape, they impact the aesthetic of our smile, and they hold neighboring teeth in position which helps keep our jaw joint aligned. All of these factors participate in our function, our look, how we feel in social engagements and even our overall happiness. Along with their usefulness, teeth can become damaged, broken and decayed, sometimes resulting in their loss.

When a single tooth, or multiple teeth are missing, we can help. Our team at Lakewood Dental Arts can discuss options following a consultation specific to your needs, which may include a dental implant.


What is a Dental Implant?

A dental implant, sometimes referred to as a tooth implant, is not a tooth at all, but a replacement tooth root. Our teeth are held in place with the root and stabilized with the surrounding gum tissue. When a patient has unhealthy or diseased gum tissue, their teeth may not be receiving the support needed to stay in place, and then come loose and eventually fall out. We can rebuild the tissue and restore the tooth with a new root, which is the implant.

Dental implants are a threaded device made of either titanium or non-metal ceramic. The shape is very similar to a screw in design and shape. Similarly, they come in a variety of lengths and widths depending on the work being done. The implant has a threaded end that is surgically sunk into the bone, and a head which we can use to secure a dental prosthetic to. With the implant stable, we can use it alone, or as part of a system.


Are There Different Types Of Dental Implants?

Today, there are several implant options available such as: dental implant-supported bridges, crowns, teeth in a day, and even full arch replacements like the All on 4 treatment concept. Once the bone has healed, you will have a firm, secure tooth replacement.
Implant Secured Bridge

A dental bridge is used to replace multiple missing teeth. The traditional system utilized healthy teeth to serve as anchors to support the bridge. Today, we can use any combination of teeth or implants to secure the bridge in place. Depending on the number of teeth missing, and their placement in your mouth, we can create a treatment plan that is right for you which may include one, two, or multiple dental implants. A dental bridge can even be used to retain an entire arch of missing teeth. A dental bridge is not considered a removable device.


Implant Retained Denture

Implant retained dentures provide patients with a secured system that allows dentures to be held firmly in place, while still being removable when needed. This can include the implant retained bar denture, which uses a bar system to attach the denture to, and the implant retained ball denture, which allows the patient to snap the denture on and off.


Contact Us

Dental implants have opened up a wide variety of options and benefits in tooth replacement. Your journey begins with a consultation, where we can review and discuss your options specific to you. Contact our team for more information at (562) 866-1735.