Dental Fillings


Lakewood, CA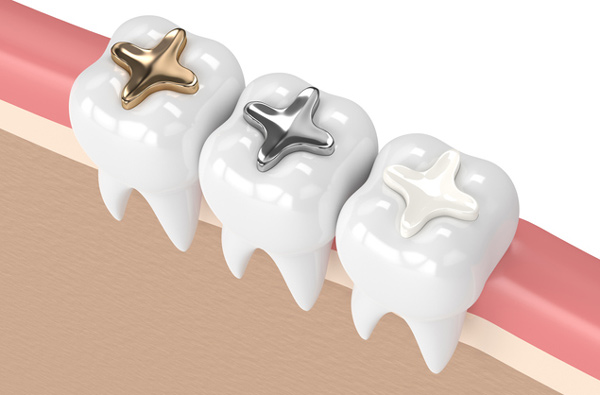 We can fill cavities, cover chips and make simple repairs to your teeth using a restorative treatment known as composite filling. Composite is a blend of quartz, ceramic and other non-metallic materials that we blend with a strong resin to create a putty-like substance that will dry hard after we shape it. In the past, composite was considered an inferior product, but the material used today is strong, durable and long lasting. It can be an excellent choice both for its durability and ability to match the coloring and translucency of your own natural teeth. Our team at Lakewood Dental Arts can examine the affected area and determine if composite filling is right for you.


Composite or Amalgam?

Composite and amalgam are both filling materials that are frequently used in dentistry to make repairs to your enamel. Traditionally, amalgam, also known as silver fillings, was the material of choice. It is a strong material with proven durability. Amalgam also comes with some characteristics that some patients dislike, including its dark coloring, it requires the reshaping of the tooth to allow for replacement meaning more enamel is removed, and some of the metal it contains.

Composite began its journey being thought of as the lesser product in strength and durability, but, the material used today is stronger and better. The benefits that come with composite filling material include:

| | |
| --- | --- |
| • | Matching your Enamel: Composite filling material can be color matched to your teeth. This helps the repair disappear in your mouth. |
| • | Adhere to Enamel: Composite filling can adhere to your enamel. This means we only need to remove the diseased portion of the enamel, we don't have to reshape the tooth to allow the material to rest. This means, less enamel is removed, which is healthier for your tooth. |
| • | Repair Enamel: Composite can be used to fill cavities, but it can also be used to make repairs. This may include covering chips, covering stains, filling gaps, and more. |
| • | Metal Free: Though the metal, including mercury, used in amalgam is within safety standards, many patients express discomfort at the metals being used. Composite is metal free, it does not contain mercury or any other reactive metals. |
Placing Composite Material

Before placing composite material, we will want to ensure that the tooth is clean and free of decay causing bacteria. This may include the removal of any decay currently present. The area is then cleansed with an acidic wash to roughen the enamel just enough to allow for better adhesion. The composite is color matched to your teeth and blended with the resin material. Once mixed, the composite is a thick, putty-like material that we can shape and alter to fit the area. This can take a bit of artistry, and time, to get the perfected look we want. While shaping, we will check the bite to ensure a proper fit. Once the composite is properly shaped, we will then set the material with the use of a blue laser light. This will harden the material and make it ready for use.

Composite fillings are a strong, durable fix, though not as strong as materials such as a dental crown. If the affected area is large, we may recommend a crown.

For more information on composite fillings, contact our Lakewood office at (562) 866-1735.